---
Prep Time: 10 minutes
Cook Time: 50 minutes
Over all Time: 1 hour
Yields: 8
---
Hello, Welcome back! Todays recipe is Creamy Tomato Bisque, made by Ina Garten. This dish is exactly what is sounds like, a nice thick but creamy soup. This recipe has so many flavors and spices its crazy, but delicious. Enjoy! ❤
Tomatoes originated from the Andes in South America. They were first modified by the Aztecs and Incas a few thousand years ago ( british, 1). It turns out that the first few uses of tomatoes were actually poisonous, but that wasn't because of the tomato it was because of were it was planted(aggie, 3). The English word 'tomato' comes from the Aztec word, "tomatl".
Tomatoes are the major dietary source of the antioxidant lycopene, which has been linked to many health benefits, including reduced risk of heart disease and cancer. They are also a great source of vitamin C, potassium, folate, and vitamin K (healthline,5). Tomatoes can help with skin health as well, like acne and may prevent a skin desease(healthline, 6).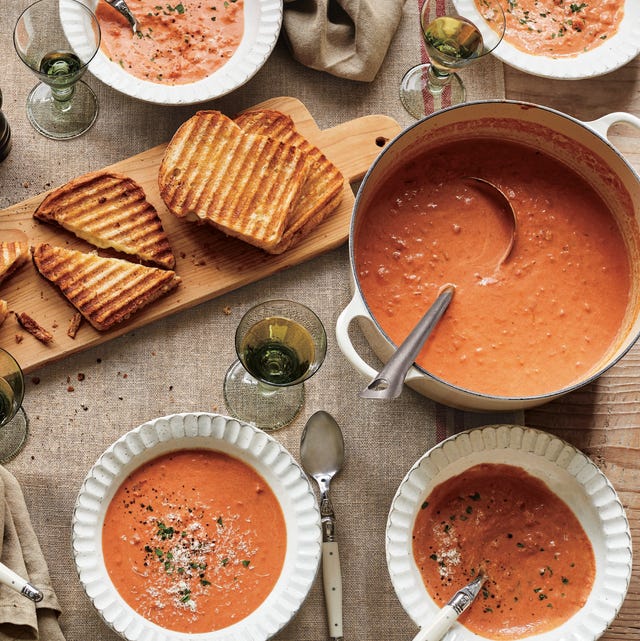 I chose this recipe because its Fall! Which means soup season, that I am very excited for. I love soups because there are so many varieties of them from sweet and savory to spicy and delicious. I hope you all enjoy this recipe and have fun making it too! ❤
---
As in the picture, there is a grilled cheese and toasted bread. Both of those will be amazing with this delicious soup.
---
Ingredients:
❑ 3 tablespoons of unsalted butter
❑ 1 tablespoon of olive oil
❑ 1 ½ cups of chopped yellow onion
❑¾ cup of shallots (2 large)
❑ ½ teaspoon of saffron threads
❑ ¼ teaspoon of crushed red pepper flakes
❑ 1 cup of chopped leak, white and light green parts only
❑ 3 (28-ounce) cans crushed tomatoes
❑ 4 cups of whole milk
❑ 2 cups of heavy cream
❑ Dash of Kosher salt and freshly ground pepper
❑ Grated Parmesan and chopped fresh flat-leaf parsley, for garnish
---
Instructions
Heat butter and oil in a large pot or Dutch oven over medium-low heat. Add onion, shallots, and leek. Cook, stirring occasionally, until tender, 8 to 10 minutes. Add tomatoes, milk, cream, saffron, and red pepper flakes. Bring to a boil over high heat. Reduce heat and simmer, uncovered and stirring occasionally, until flavors are blended and soup is slightly thickened, 30 to 40 minutes. Season with salt and pepper.
Serve hot, garnished with Parmesan and parsley
Make ahead: Prepare the soup completely and refrigerate up to three days. Reheat over medium- low heat, adding milk or water as needed for desired consistency.
---
Soup can last up to 3 days in fridge, unless you want to freeze it. My mom takes small ziplock bags and fills them about 3/4 of the way with the broth/soup. She then puts it in the freezer and freezes it until next time we want to eat or use it. Freezing this substance will stop the process of it getting old, it basically freezes time for the soup. Haha.
I hope you enjoyed this weeks recipe made by the one and only Mrs. Ina Garten. I once again recomend cooking with family, friends or cousins. It brings more joy in the kitchen, at least for me. Have an amazing weekend everyone! ❤
---