---
Prep Time: 10 minutes
Cook Time: 35 minutes
Marinating Time: 20 minutes (see paragraphs below for additional information)
Total Time: 45 minutes
Servings: 5-6
---
This week we are focusing on the Philippines. The Philippine archipelago was discovered on March 16, 1521 by Ferdinand Magellan. Spanish dominion over the islands was first firmly established in 1565 by Miguel López de Legazpi (1502-1572), the conquistador and first Spanish governor-general of the Philippines. The reason it was found was following the Spanish – American War, it became a territory of the United States.
In the Old World, Egyptian and Indian cultures referred to garlic 5000 years ago and there is clear historical evidence for its use by the Babylonians 4500 years ago and by the Chinese 2000 years ago. Some writings suggest that garlic was grown in China as far back as 4000 years ago. There is a popular belief that Sumerians were first to discover garlic (garlic,1).
During the great plague of Marseille in 1762, four thieves – which had been arrested for looting – were granted pardon in exchange for revealing the secret of their immunity to the disease: a potion-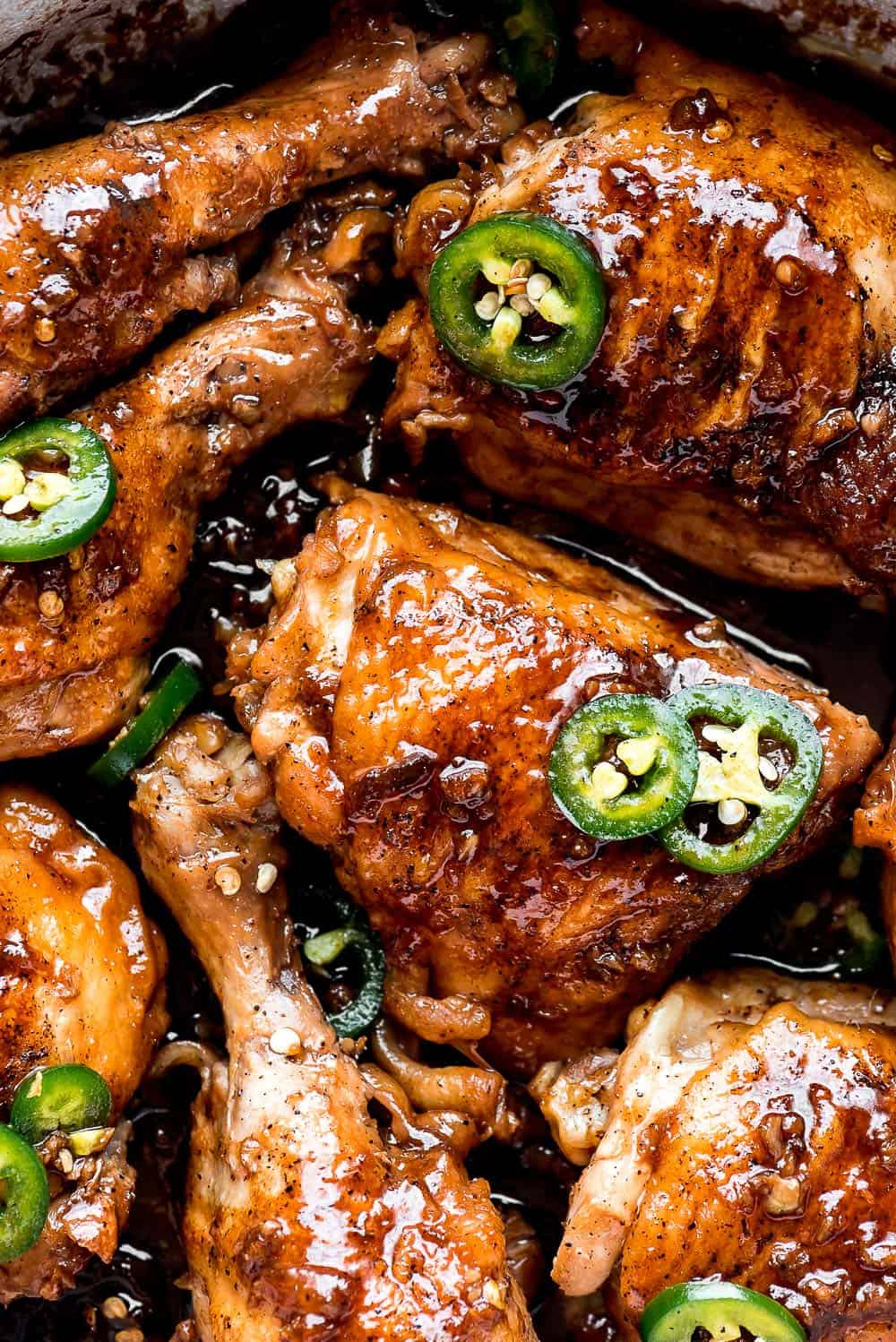 made with garlic, which became known as the 'Vinaigre des 4 voleurs' ! Garlic helps fight hypertension by dilating small capillaries. It also has anthelmintic properties, and gets rid of intestinal parasites. Finally, allicin inhibits tumours, hence its alleged anti-cancerous properties (garlic, 2). Garlic is most often used as a flavoring agent but can also be eaten as a vegetable. It is used to flavor many foods, such as salad dressings, vinaigrettes, marinades, sauces, vegetables, meats, soups, and stews. It is often used to make garlic butter and garlic toast.
My mom makes a type of veggie for a side with dinner every night such as green beans, cauliflower and broccoli. As a seasoning and a little extra healthiness she adds garlic cloves! I would really recommend trying it.
When marinating a meat, to get the best flavor you marinade it over night or at least a couple of hours.
---
Ingredients:
Chicken and Marinade:
❑ 750g / 1.5 lb chicken thigh fillets , boneless and skinless (5 – 6 pieces) 
❑ 3 garlic cloves , minced
❑ 1/3 cup (85ml) soy sauce , ordinary all purpose or light (not dark soy sauce,)
❑ 1/3 cup + 2 tbsp white vinegar
❑ 4 bay leaves (fresh) or 3 dried
For Cooking:
❑ 2 tbsp oil , separated (vegetable, canola or peanut)
❑ 3 garlic cloves , minced
❑ 1 small brown onion , diced
❑ 1 1/2 cups (375 ml) water
❑ 2 tbsp brown sugar
❑ 2 green onions/scallions , sliced (garnish)
❑ 1 tbsp whole black pepper (sub 2 tsp coarse cracked pepper)
---
Instructions:
Combine Chicken and Marinade ingredients in a bowl. Marinate for at least 20 minutes, or up to overnight.
Heat 1 tbsp oil in a skillet over high heat. Remove chicken from marinade (reserve marinade) and place in the pan. Sear both sides until browned – about 1 minute on each side. Do not cook the chicken all the way through.
Remove chicken skillet and set aside.
Heat the remaining oil in skillet. Add garlic and onion, cook 1 1/2 minutes.
5. Add the reserved marinade, water, sugar and black pepper. Bring it to a simmer then turn heat down to medium high. Simmer 5 minutes. 6. Add chicken smooth side down. Simmer uncovered for 20 to 25 minutes (no need to stir), turning chicken at around 15 minutes, until the sauce reduces down to a thick jam-like syrup. 7. If the sauce isn't thick enough, remove chicken onto a plate and let the sauce simmer by itself – it will thicken much quicker – then return chicken to the skillet to coat in the glaze. 8. Coat chicken in glaze then serve over rice. Pictured in post as a healthy dinner plate (415 calories) with cauliflower rice and Ginger Smashed Cucumbers.
---
Have a great weekend!
---