---
*I am only posting this on Wednesday, because I have a busy next few days and won't have time to post Thursday or Friday! But enjoy! 🙂
Yields: 4 pieces of salmon
Prep Time: 10 minutes
Cook Time: 20 minutes
Total Time: 30 minutes
---
Rice and fish are definitely a few of my favorite foods. That probably explains why I love sushi so much. This recipe is not only delicious, but a good recipe for summer, wether your barbecuing or preparing it in the oven!
Broccoli, Brassica oleracea, variety italica, form of cabbage, of the mustard family (Brassicaceae), grown for its edible flower buds and stalk. Native to the eastern Mediterranean and Asia Minor, sprouting broccoli was cultivated in Italy in ancient Roman times, and was introduced to England and America in the 1700s(brittanica, 1).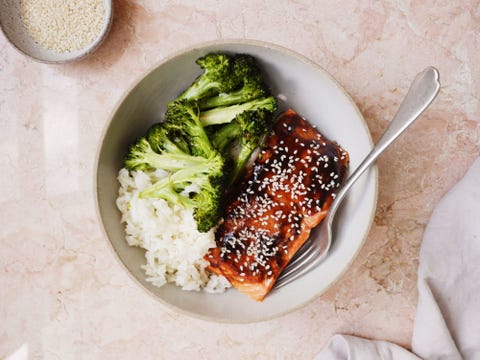 High in dietary fibre and a number of vitamins and minerals, including potassium, folic acid, and vitamins A, C, and K, broccoli is a nutritious vegetable and can be eaten fresh or cooked. Fresh broccoli should be dark green in color, with firm stalks and compact bud clusters.
Broccoli was once banned from the White house by president George Bush. He told the reporters that his mother made him eat it all the time and that he is president of the United States so he will no longer eat broccoli. The vegetable's constituents subsequently flooded the White House with recipes and tons of the veggie, which was donated to food banks. One produce dealer in California noted that sales had risen 10 percent as a result of the publicity around the President's non-endorsement. (mentalfloss, 6).
---
Ingredients:
❑ 1 c. white rice, such as jasmine or Basmati
❑ 1 lb. small broccoli florets, from 2 large heads
❑ 2 tbsp. canola oil
❑ kosher salt
❑ 4 6-oz. skinless salmon fillets
❑ 1 tbsp. hoisin sauce
❑ 1/4 c. sesame seeds, plus more for garnish
❑ 2 tbsp. rice vinegar
---
Instructions:
Preheat oven to 400º with a rack set in the center. Cook rice according to package directions.
Meanwhile, toss broccoli with oil and salt on a rimmed baking sheet. Place salmon between broccoli and brush with hoisin. Roast until just opaque throughout, 12 to 15 minutes.
Stir sesame seeds and vinegar into rice and season to taste with salt, if needed. Divide between serving bowls and top with broccoli and salmon. Sprinkle with sesame seeds and serve!
Super easy and delicious. I hope you have a great weekend!