---
Prep Time: 15 minutes
Total Time: 15 minutes
Yield: 2
Method: Tossed
Cuisine: Northwest
description: Smoked Salmon, Avocado and Fennel Salad with Creamy Dill Dressing. Fast and easy, this hearty entree salad makes for a delicious lunch or dinner main.
---
There is only 2 weeks left of this blog until I have summer vacation! So a good way to start off summer is by a delicious salad. I hope you loved these blog posts as much as I did writing them and eating them! I really appreciate all the support for my website! Have an amazing weekend and i'll see you guys next week one last time.
The cucumber has been cultivated for at least 3,000 years in Western Asia, and was probably introduced to other parts of Europe by the Romans. Records of cucumber cultivation appear in France in the 9th century, England in the 14th century, and in North America by the mid-16th century (history,1).
The cucumber is believed to be native to India, and evidence indicates that it has been cultivated in Western Asia for 3,000 years. The cucumber is also listed among the foods of ancient Ur and the legend of Gilgamesh describes people eating cucumbers. Some sources also state that it was produced in ancient Thrace, and it is certainly part of modern cuisine in Bulgaria and Turkey, parts of which make up that ancient state. From India, it spread to Greece (where it was called "vilwos") and Italy (where the Romans were especially fond of the crop), and later into China (history,1-2).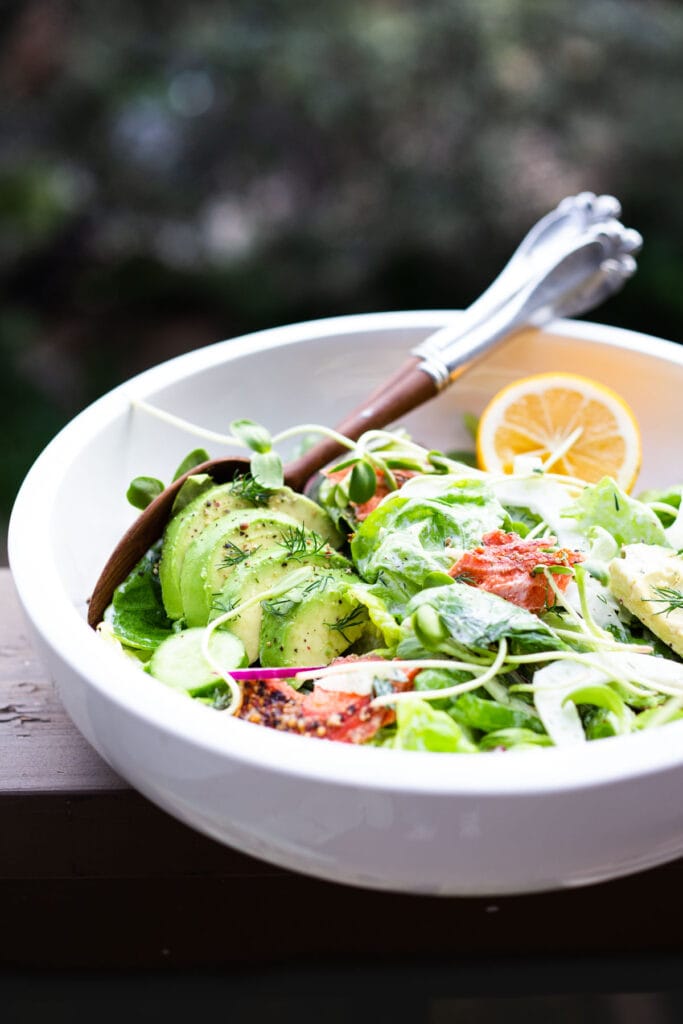 Cucumbers are very good for your body containing a lot of important vitamins, minerals and contain antioxidants. But, cucumbers are mainly good for your eyes. Cucumber has an anti-inflammatory effect that helps in reducing puffiness. The high water content helps in hydrating the skin and the cool temperature decreases the flow of blood to the space around your eyes. Together they can soothe the skin around your eyes and alleviate swelling(cucumber,1). Cucumbers are 96% water and the rest is Vitamin C (14% of the RDI), Vitamin K (62% of the RDI), Magnesium (10% of the RDI), and Potassium (13% of the RDI) (healthline,1-10).
---
Ingredients:
Creamy Dill Dressing:
❑ ⅓ cup mayo
❑ 1/3 cup sour cream
❑ 1 tablespoon olive oil
❑ 2 tablespoons lemon juice
❑ 2 garlic cloves-finely minced- use a garlic press
❑ 1/3 cup fresh dill, chopped
❑ 1/4 heaping teaspoon salt
❑ 1/4 teaspoon fresh cracked pepper
Salad:
❑ 1 head butter lettuce rinsed (or little gems or romaine or other mix), leaves torn
❑ 1 Turkish cucumber, sliced ( or 2–3 radishes)
❑ 1/2 a fennel bulb, thinly sliced
❑ 4– 6 ounces smoked salmon (dry smoked) or smoked trout
❑ ⅛ –1/4 cup thinly sliced red onion
❑ 2 tablespoons capers
❑ 1 avocado sliced
❑ Sunflower sprouts, more dill, Everything Bagel Spice – all optional
---
Instructions:
Dill Dressing:
Place dressing ingredients (except dill) in a bowl or jar and whisk until smooth , then mix in the dill. Set aside. Dressing will make enough for 2 batches of salad ( 4 salads) so save the rest in the fridge. Also great for dipping and veggie platters.
Salad:
Place the lettuce, fennel bulb, cucumber, smoked salmon, red onion and capers in a big bowl. Toss, then add enough dressing to coat- about half of what you made, tossing gently.
Extra Notes:
Garnish: If garnishing with the avocado, sprinkle with salt and pepper or Everything Bagel Spice.
Taste for salt and pepper, adding more to taste. You can either toss in the avocado and sprouts at this point, or divide the salad and use them as garnish.
If going for a leaner version, simply dress the salad with olive oil, lemon juice, minced garlic, salt and pepper, tasting as you go. Be sure to add fresh dill to the salad mix. Or try the Creamy Vegan Herby Hemp Dressing (using dill)
---
Happy Friday!