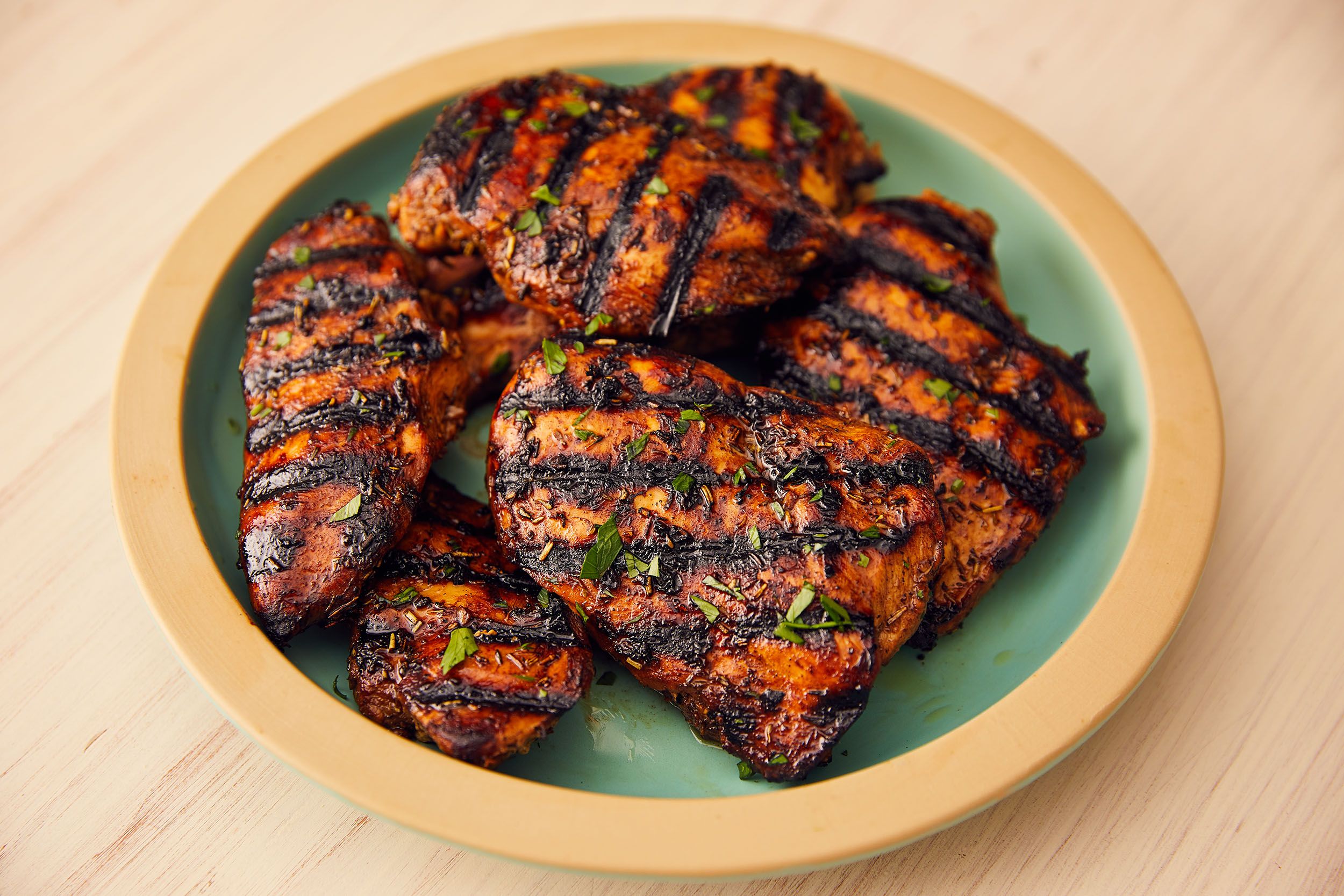 ---
Prep Time: 3-5 minutes Cook Time: 10-20 Minutes Total Time: 20-30 minutes
---
Hello everyone! This extra recipe is just a simple, easy and delicious grilled chicken inspired by my Dad. Whenever my dad barbecues/grills its always something to look forward to. He can practically grill anything almost perfectly every time. He can grill salmon, chicken, steak, rib eyes, pork, lamb you name it. Todays recipe is short and easy and literally the best chicken you will ever taste in your life. I would encourage you to cook with your family or friends or whoever because it brings you an extra dash of happiness in the kitchen and it gives you bonding time! Im going to cook the chicken with my dad today while listening to some fun music. I hope you all enjoy this extra recipe! ❤
---
Thanks Dad for this delicious recipe 🙂
---
Cooking Utensils:
Big ziplock bag
Barbecue
Tongs for meat on barbecue
Big bowl or plate to put cooked chicken on
---
Ingredients:
☑︎ Chicken thighs or breasts (You can get it from Sam's club, Walmart, Costco or a Meat market. We are using Thighs)
☑︎ Salt&Pepper
☑︎ One bottle of Lawry's steak and chop marinade
☑︎ Garlic Salt (optional)
---
Instructions for Marination:
Grab your big plastic ziplock bag and put all of your chicken thighs or breasts into the bag
Pour in the whole bottle of marinade into the bag with chicken
Add about 2-3 large pinches of salt and pepper and sprinkle over chicken in bag
*Optional* And if you want an extra kick of flavor sprinkle over about 1 tablespoon of garlic salt
Close the bag and let marinade until your ready to grill it (for more flavor marinade over night, but if you cant try to keep it marinaded throughout the day until its time to grill it!)
Instructions for barbecuing:
Go outside to your barbecue with you bag of marinaded chicken, tongs, and plate or bowl for the chicken to rest in once its done cooking
Turn your barbecue on to medium high heat
Let the barbecue sit for a little while (3-5minutes) to get heated
Open your bag and gently place all the chicken you can fit on the grill. Leave about 6-8 inches of space between each chicken, and don't throw away your bag of the remaining marinade.
Close the latch and after about 6-8 minutes or until you see the chicken get a little darker than golden brown flip your chicken over and evenly coat half of the remaining marinade onto the chicken thighs or breasts
Close the latch once again and leave for another 6-8 minutes
After you see the chicken is a darker color than golden brown, then using your tongs pick up the chicken and place onto bowl or plate.
Turn your barbecue to the lowest heat and let the chicken sit inside for about 5 minutes to cool down.
While the chicken is sitting inside go back outside and make sure to scrub off all the burnt pieces on your barbecue so you have a pretty clean surface for next time you grill out there again!
Turn off the heat and enjoy your Chicken!
---
Hope you all enjoyed the best barbecue Chicken you will ever taste made by my dad! You can pair your chicken with a delicious salad and some veggies or fruit. Check out my other recipes for those!Just a reminder this chicken can last in the fridge for as long as the packaging of the chicken says! Have a good weekend 🙂
---