---
Prep Time: 15 minutes
Cook Time: 1 hour
Total Time: 1 hour 15 minutes
Course: Dinner
Cuisine: Mexican
---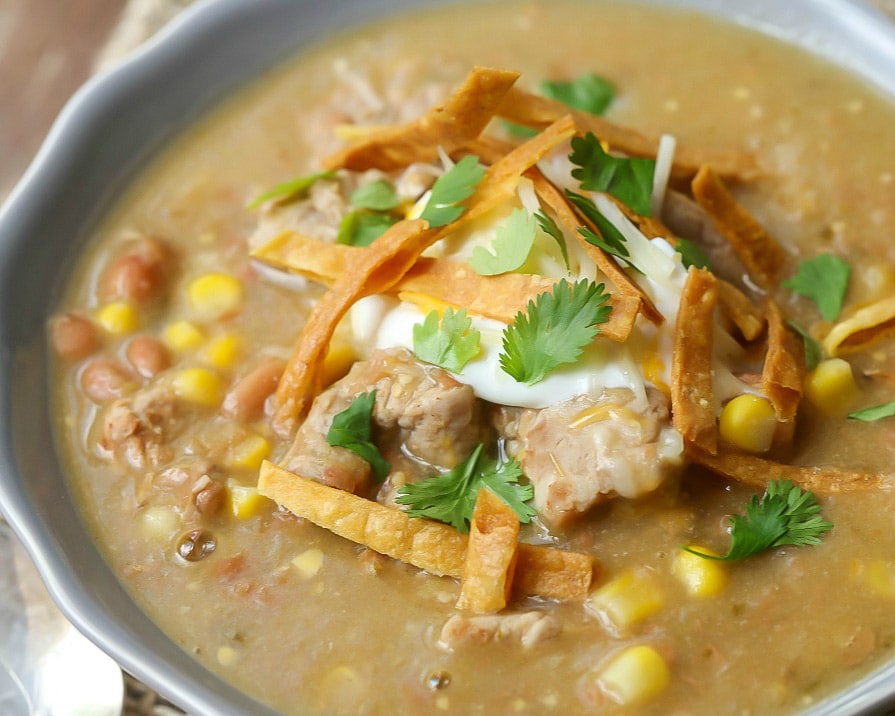 Welcome back! Green tortilla chili is a definite family favorite, and is perfect for the Fall weather. This recipe consists of seasonings including cumin and paprika, as well as a protein and a fat such as shredded chicken and butter, and lastly spices for that extra kick of flavor. – Green salsa and diced chilis.
Did you know that butter was accidentally made? A few thousand years ago, on the back of an animal on a bumpy trail, a little kid had a glass bottle of milk. That kid held and shook the milk until he or she had reached there destination(mpr, 2). After the ride the child and the person the kid was riding with went to drink the milk finding only chunks that they thought tasted quite yummy! Shortly after this day of history, other people found out about this new substance and quickly caught on to this new idea(mpr, 3).
Butter is rich in nutrients and beneficial compounds, such as Butyrate and conjugated linoleic acid both which are serviceable in over 10 different ways to your body (healthline,1). Butter is a high-fat dairy product that is linked to a reduction in the risk of obesity, diabetes as well as heart problems(healthline, 2). My mother taught me that everything is pretty okay for you as long as you have a moderate amount. But, overall butter is very healthy for you!
This recipe has been chosen for three reasons. The flu season is just about here and this soup is healthy for you in many different ways. One reason is because of the spices. Spicy foods speed up your metabolism, reduces inflammatory in the body, helps fight cancer cells and kills bacteria in your body which prevents you from getting sick! Next, this soup is perfect for the cold, fall weather. And lastly it is very very very delicious!
---
Ingredients:
❑ 1 rotisserie chicken, shredded
❑ 6 cloves garlic, minced
❑ 3 jars green tomatillo salsa
❑ 8 cups of bone broth
❑ 1 light beer
❑ 1 tablespoon cumin
❑ 1 jar diced green chilis
❑ 1 teaspoon of salt
❑ 1 lime quartered
❑ 1 onion, chopped finely
❑ 1 tablespoon butter
❑ 2 cans pinto beans, drained
❑ 1 teaspoon of paprika
---
Instructions
In a soup pot, saute onion, garlic and chilis in your one tablespoon of butter
When soft add the beer and allow to cook for 10 minutes
Add in bone broth, salsa, beans and chicken
Season to taste with cumin, salt, and paprika
Allow to simmer for 20 minutes and serve piping hot
Garnish with fresh lime and crushed chips. you can also add on top, sour cream.
---
There is beer in the soup, but the alcohol cooks out of it. The beer just brings extra flavor. On top of the soup you can add many toppings as you want, such as crushed or whole chips, cheese, sour cream, tomatoes, and cilantro. In the soup I would also recommend corn because the flavor of the corn goes really well with the soup.
I hope you all love this recipe! I hope to see you guys next week for more Fall or Halloween dishes! Have a lovely weekend!