Chilaquiles
---
Prep Time: 15 minutes
Cook Time: 10 minutes
Total Time: 25 minutes
Serves: 4
Course: Breakfast
Cuisine: Mexican
---
Hello everyone and welcome back! Today I am partnering with my beautiful mother with this recipe and for the next few weeks. My mom started her website a few years ago and I would definitely recommend her for anything regarding health nutrition!
→ Jennifer woodward She has one of the best homemade enchilada recipe's.
This week is the first week of fall! Fall is by far my favorite time of the year! The cold weather, the warm fires, Halloween, and Thanksgiving! I absolutely love the Fall. This dish is a definite family favorite! Chilaquiles are basically corn tortilla pieces that are fried, cooked in salsa, and sprinkled with cheese. They are often served for breakfast with eggs and a side of beans or nopalitos. The main ingredients of the dish are tortillas, green or red salsa, pulled chicken (or you can use steak), but traditional recipe's use pulled pork, cheese, refried beans, and eggs. The egg with the spice's and the crisp of the tortillas is the best part, along with the stringy cheese. Basically the whole dish is amazing! Haha. Please enjoy this recipe!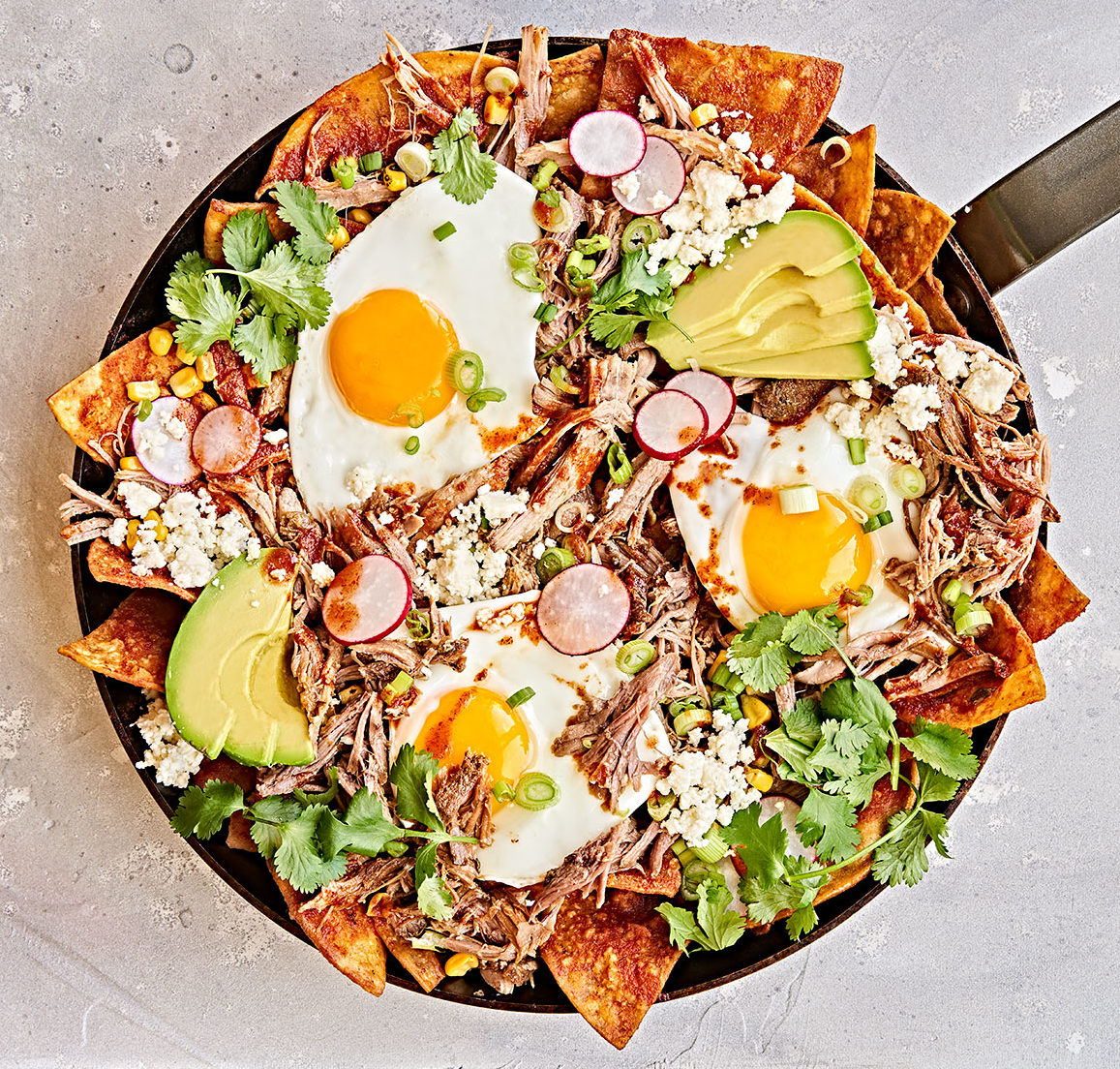 Today we are going to focus on the humble egg. What came first the chicken or the egg? Haha, just kidding… When God created the Heavens and the Earth, on the fifth day he created birds and living creatures that swarm the seas… (Genesis 1:20-22). The Bible tells us that chickens were created on the 5th day back when God made the world and everything in it.
Eggs are in fact healthy for you. Eggs are high in protein along with a few nutrients. The are high in vitamin D which helps with bone health and the immune system, and choline which helps with metabolism and liver function as well as fetal brain development in infants (healthorg,1). The healthiest way to make an egg is poached or boiled (healthline,1), although any way you make an egg is pretty healthy. Salmonella is a real bad illness you can get from eggs but as long as you wash your hands after working with eggs you will be fine!
I chose this recipe because its almost fall and this dish is perfect for the fall or winter weather, and as a bonus, my family loves this recipe. Chilaquiles includes lots of healthy items like avocados, chicken and what we just learned about, eggs and more. Enjoy this weeks recipe!
---
Enchilada Sauce 🙂
Prep Time: 10 minutes
Cook Time: 20 minutes
Total Time: 30 minutes
Serves: 6-8 people
---
Ingredients
Chilaquiles:
☑︎ 2 tablespoons of canola oil
☑︎ 3-4 large eggs
☑︎ 1½ cups of enchilada sauce (you can use this homemade recipe by my mom! Or favorite canned enchilada sauce)r
☑︎ 2 cups tortilla chips
☑︎ ¼ cup of diced red onion
☑︎ 2 tablespoons chopped fresh cilantro
☑︎ Queso Fresco cheese, crumbled
☑︎ 1 avocado diced or sliced
☑︎ 1 lime cut into wedges
Enchilada Sauce:
☑︎ 2 tablespoons olive oil
☑︎ ½ cup of finely chopped yellow onion
☑︎ 3 cloves garlic minced
☑︎ 3 tablespoons chili powder
☑︎ 1 teaspoon ground cumin
☑︎ 1 tsp dried oregano
☑︎ 1 teaspoon of dried oregano
☑︎ ½ teaspoon sea salt
☑︎ 2 cups homemade chicken stock (recipe on her website!)
☑︎ ¾ cup organic tomato paste or tomato sauce *see note below
---
Instructions
Chilaquiles:
Heat a non-stick skillet over medium-low heat with the canola oil.
Crack the eggs into the skillet and pull the whites into the eggs as you do
Cook on medium low, and as the whites begin to set, spoon the oil over the whites until cooked through.
Move the pan from the heat and set aside
Heat a 10-inch cast iron skillet over medium high heat
Add the Enchilada sauce to the skillet to heat it, then add the chips, tossing to coat evenly in the sauce
Add more sauce if needed and cook for 1 to 2 minutes to slightly soften then remove from heat
Top with the cooked sunny side up eggs and garnish with the red onion, radishes, avocado, lime and queso fresco cheese and season with salt and serve family style straight out of the pan.
Homemade enchilada Sauce:
In a medium sized sauce pan heat oil over medium heat.
Add onion and sauté until translucent (4-5) minutes
Then add garlic and stir until fragrant ( about one minute)
Add chili powder, cumin, oregano and salt then stir using a wooden spoon, cooking for about 30 seconds
Add chicken stock and tomato paste, or for a thinner sauce add in tomato sauce
Continue to stir to combine
Bring sauce to a gentle boil then reduce heat to low and allow to gently simmer, covered for about 15 minutes
Adjust the seasonings, adding more salt to taste and additional chili powder to increase heat if desired
If you prefer a non-chunky sauce, strain the mixture through a fine-mesh strainer into a bowl, pressing on solids to extract as much sauce as possible!
---
Stay healthy and remember to give thanks to the Lord for all He does especially in this tragic time! Have an amazing weekend! See you next Friday for some Fall and Halloween related foods!🦇👻🍁
---