---
Prep Time: 5 minutes Cook Time: 20-25 minutes Total Time: 25 minutes Yield: 8 cups
---
This weeks additional recipe is healthy granola! Super easy and a delicious access for breakfast, smoothie bowls, yogurt bowls, and more. For granola you have to have your base and grain. Oats are your base. If you are looking for an alternative for your oats you can use quinoa flakes cooked quinoa or coconut Flakes. You will also need a dried fruit (optional) dried apricots, dried cherries, dried dates, dried bananas, banana chips, dried mangos, dried apples, raisins or dried cranberries. Next is nuts and seeds. You can chop them up or use them whole! You can se a mixture of nuts and seeds like almonds, walnuts, cashews, pistachios, pecans, sesame seeds, sunflower seeds, or macadamia nuts. Then you will need a natural sweetener. Maple syrup and Honey are both great sweeteners! Next we got oil options. Oil is what binds the granola together. You can use Coconut Oil, Olive Oil, Grape seed Oil, Avocado Oil, macadamia nut oil, and or walnut oil. Lastly to flavor up your granola add in spices! Ginger, allspice, nutmeg, cardamom sea salt, cinnamon, and or cocoa powder! Optionally in the granola you can also add a protein. I am going to add in peanut butter!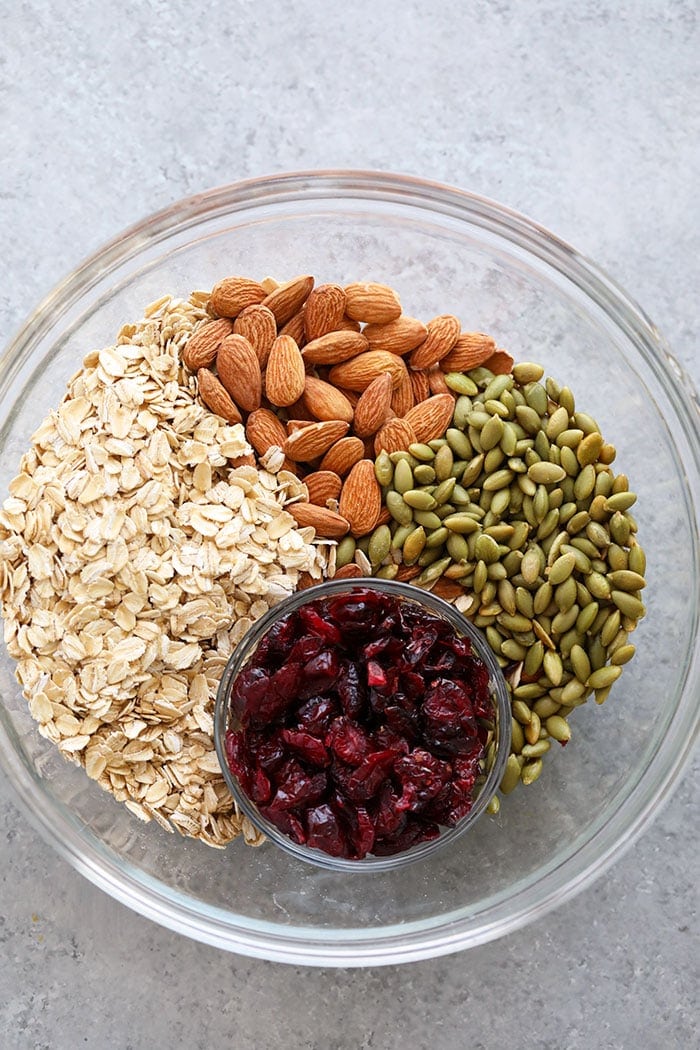 Almonds were originated in China and Central Asia by unknown people or person. Explorers ate almonds while traveling the "Silk Road" between Asia and the Mediterranean. Before long, almond trees flourished in the Mediterranean, especially in Spain and Italy (almondhist, 1). In the mid 1700 Spain brought the almond trees to California on the Coast, directly next to the waters. The moist and cool air did not provide proper growing treatments to the almonds. It wasn't until the following century that trees were planted inland successfully (almondhist, 1).
Almonds help your heart stay healthy. They lower bad cholesterol and are loaded with Vitamin E, Magnesium, and potassium (Glassman, 2). This nut is helpful to the heart because it brings you lots of vitamins to help the oxygen in your body flow more freely. Almonds are also known as "Bone building food." One ounce of almonds is as much as as much Calcium as 1/4 cup of milk (Glassman, 3). Over all Almonds are very healthy towards the body, but remember a little goes a long way!
I chose this recipe because about every granola is super sugary and unhealthy. Also because its another fun thing you can do in the kitchen while stuck in this pandemic! You can store this granola in a mason jar or a different air type container in your pantry for up to 3 weeks. My little brother, Chase, loves granola so I am happy I can make one thats healthy for him and tasty. There are many ways you can make granola, many different flavors like vanilla granola, peanut butter granola, cinnamon granola, honey granola and more! I hope you all enjoy this weeks recipe. Enjoy! ❤
---
Utensils For Recipe:
Baking Sheet
Parchment Paper
Cooking Spray
Large Bowl
Spatula
Oven
Ingredients For Recipe:
☑︎ 2 cups rolled oats
☑︎ 1 cup melted peanut butter
☑︎ ½ cup whole/raw almonds
☑︎ ⅓ cup of Pumpkin, pepitas, flax, or chia seeds
☑︎ 1 teaspoon of cinnamon
☑︎ 3 tablespoons maple syrup or honey
☑︎ 2 tablespoons coconut oil (melted)
☑︎ (optional) ½ cup dried fruit i'm going to use raisins
☑︎ 1 teaspoon fine grain sea salt
☑︎ Optional mix ins chocolate chips or coconut flakes!
Instructions For Granola:
Pre-heat oven to 350ºF
Line a large baking sheet with parchment paper
In a large bowl combine the oats, nuts and seeds, salt, then cinnamon. Stir to blend
Pour in the oil, syrup and or honey and peanut butter. Mix well until every nut or oat is coated evenly.
Pour the granola onto your baking sheet and spread evenly with a spatula over your baking sheet
Bake until lightly golden, about 21 to 24 minutes, stirring halfway (for extra-clumpy granola, press the stirred granola down with your spatula to create a more even layer). The granola will further crisp up as it cools.
Let the granola cool for about 30 minutes
Then top with the dried fruit you are using and optionally the chocolate chips and or coconut flakes
Break the granola into pieces with your hands if you want to retain big chunks, or stir it around with a spoon if you don't want extra-clumpy granola.
Store the granola in an airtight container at room temperature for 1 to 2 weeks, or in a sealed freezer bag in the freezer for up to 3 months. The dried fruit can freeze solid, so let it warm to room temperature for 5 to 10 minutes before serving.
---
Stay healthy and remember to give thanks to the Lord for all He does for us! Have an amazing weekend!
---