---
Course: Dinner
Cuisine: Mexican
Prep Time: 10 minutes
Cook Time: 40 minutes
Resting Time: 10 minutes
Total Time: 1 hour
Servings: 10 Enchiladas
---
Hello everyone and welcome back! This whole week I was thinking of some delicious and flavorful enchiladas. So, let's make some together! These Enchiladas are loaded with flavor. We are making a homemade pico de gallo, and guacamole (for a side), along with the enchilada sauce for the enchiladas. Enjoy!
Olive oil, unlike other vegetable oils, is extracted from a fruit and not a seed. The word "oil" comes from the Arabic "az-zait", which refer to the juice of olives. During this time, people would describe olive oil as "liquid gold." Olive oil was discovered and began to be used thousands of years ago in the classical era when various Mediterranean civilizations (Phoenicians, Greeks, and Romans) began to grow olive trees and extract juice from the olives(history of olive oil, 1).
Interestingly, crowns of olive branches were even given to athletes during the Olympic Games. Moreover, some of the branches that were given to the victors were always cut with a golden knife by a 12-year-old boy whose parents were still living. During this sporti-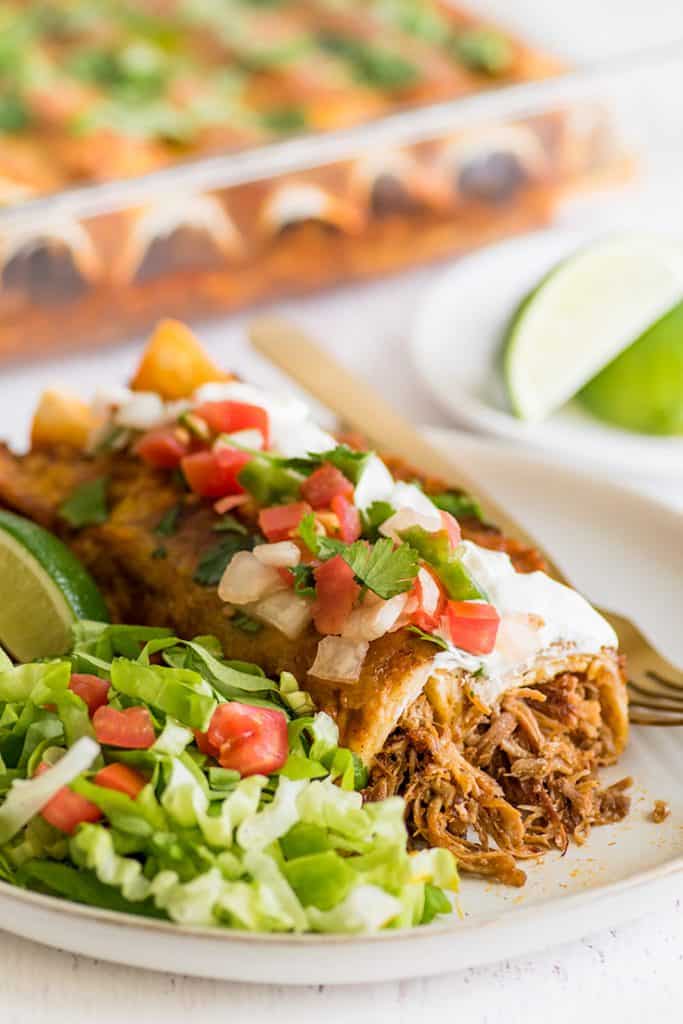 -ng event, athletes rubbed Olive Oil on their bodies before and after the competition to prepare for a massage, a custom that has survived with the passage of time. Today, massages with Olive Oil are very common and are as highly regarded today as they were then(history of olive oil, 1-2).
Olive oil is also super good for your body. Olive Oil is rich in healthy monounsaturated fats. It also contains large amounts of antioxidants, has strong anti-inflammatory properties, it may help prevent strokes, it can protect you from a heart disease, and it can help with your hair, skin and nails (healthline, 1-4).
---
Ingredients: Enchilada Sauce
Note: Special equipment- 9×13-inch rectangular casserole dish or smaller dishes for freezing and half batches*
❑ 3 tablespoons olive oil
❑ 3 tablespoons all-purpose flour
❑ 2 tablespoons chili powder
❑ 1 1/2 teaspoons ground cumin
❑ 3/4 teaspoon garlic powder
❑ Black pepper to taste
❑ 1/4 heaping teaspoon dried oregano
❑ 1/4 heaping teaspoon salt
❑ 3 tablespoons tomato paste
❑ 3 cups chicken or vegetable broth
❑ 1 1/2 teaspoons apple cider vinegar or distilled white vinegar
Ingredients: Enchiladas
❑ 10 8-inch tortillas flour or corn
❑ 4 cups pulled pork carnitas warm
❑ 1 1/2 cup shredded Mexican cheese blend or colby-jack cheese
---
Ingredients: Pico De Gallo
❑ 1 cup finely chopped white onion (about 1 small onion)
❑ 1 medium jalapeño or serrano pepper, ribs and seeds removed, finely chopped (decrease or omit if sensitive to spice, or add another if you love heat)
❑ ¼ cup lime juice
❑ ¾ teaspoon fine sea salt, more to taste
❑ 1 ½ pounds ripe red tomatoes (about 8 small or 4 large), chopped
❑ ½ cup finely chopped fresh cilantro (about 1 bunch)
Ingredients: Guacamole
❑ 3 ripe avocados
❑ 1/2 small onion, finely diced
❑ 2 Roma tomatoes, diced
❑ 3 tablespoons finely chopped fresh cilantro
❑ 1 jalapeno pepper, seeds removed and finely diced
❑ 2 garlic cloves, minced
❑ 1/2 teaspoon sea salt
❑ 1 lime, juiced
---
Instructions: Enchilada Sauce
Pre-measure all of your sauce ingredients (flour, spices, and salt will be added together so they can all go in the same small bowl) and place them next to the stove.
In a medium pot, heat oil over medium heat. Add flour, spices, and salt and whisk until a thick paste forms and begins to bubble, 30 seconds to 1 minute.
Whisk in tomato paste and stir until mostly combined. Slowly pour in broth, whisking out any lumps as they form and whisk until completely smooth. Bring to a simmer and cook, whisking often, until sauce has thickened, 6 to 9 minutes.
Remove from heat, stir in vinegar, and add salt and pepper to taste. Set aside to cool slightly.
Instructions: Enchiladas/ Assembling the Enchiladas
Preheat oven to 350°F.
Lightly grease your baking dish and add 1/4 cup of the enchilada sauce to the bottom of your dish, spreading it so that it mostly coats the bottom in a thin layer.
Place warm carnitas in a bowl and add 3/4 cup of sauce. Stir until well-combined. Fill each tortilla with about 1/3 cup of meat and roll tightly. Place in the baking dish, seam-side down.
Pour remaining sauce over the enchiladas and sprinkle the cheese over the top.
Bake for 25 to 30 minutes, until cheese is melted and the edges of the tortillas are just slightly crispy and browned.
Cool for 10 minutes before serving. Top with sour cream and pico de gallo if desired. Enjoy!
* Extra Notes*
To freeze, line baking dish (disposable or reusable) with parchment paper. Assemble enchiladas completely. If using a disposable baking dish, wrap tightly with foil and store in a freezer bag.
If using a regular baking dish, place in the freezer and freeze until solid, about 4 hours. Use the parchment paper to lift enchiladas out of the pan and wrap tightly in foil (leave the parchment paper on the enchiladas). Store in a plastic freezer bag.
To reheat, preheat oven to 400°F. Remove foil. (If not using a disposable container, place frozen enchiladas, parchment paper included, into a baking dish.)
Grease a piece of foil and loosely cover the top of your enchiladas, greased side down. This will keep your cheese and tortillas from burning and won't stick as the cheese melts.
Bake until heated through or an instant-read thermometer reads 160°F, this will take at least 30 minutes, up to over an hour for a full pan of enchiladas. When the enchiladas seem very nearly heated through, remove foil so the top of the enchiladas can brown.
Instructions: Pico De Gallo
In a medium serving bowl, combine the chopped onion, jalapeño, lime juice and salt. Let it marinate for about 5 minutes while you chop the tomatoes and cilantro.
Add the chopped tomatoes and cilantro to the bowl and stir to combine. Taste, and add more salt if the flavors don't quite sing.
For the best flavor, let the mixture marinate for 15 minutes or several hours in the refrigerator. Serve as a dip, or with a slotted spoon or large serving fork to avoid transferring too much watery tomato juice with your pico. Pico de gallo keeps well in the refrigerator, covered, for up to 4 days.
Instructions: Guacamole
Slice the avocados in half, remove the pit, and scoop into a mixing bowl.
Mash the avocado with a fork and make it as chunky or smooth as you'd like.
Add the remaining ingredients and stir together. Give it a taste test and add a pinch more salt or lime juice if needed.
Serve the guacamole with tortilla chips and or as a side to your enchiladas!
Take a plate of your freshly made enchiladas and top with your amazing and delicious pico de gallo. Take a lime of two and throw it on the plate along with a heaping scoop of your guacamole, and enjoy!
---
This is going to be so delicious… I hope you all love this recipe and enjoy it! Have an amazing weekend! ❤
---