---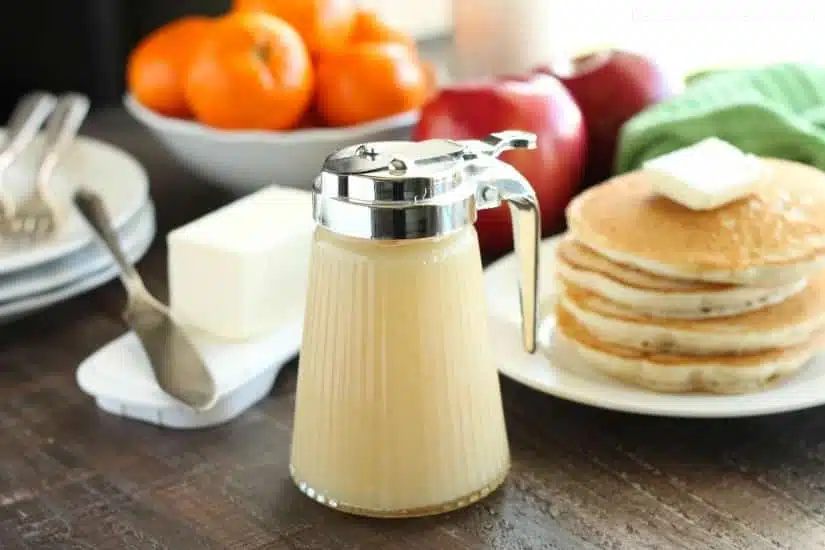 ---
Servings: 1 1/2 cups of syrup
Total Time: 10 minutes
---
I was watching a youtube family and they showed how they make there homemade blonde butter syrup. I thought it looked delicious so I had to do a blog according to their syrup! Enjoy.
Sugar was only discovered by western Europeans as a result of the Crusades in the 11th century AD and the first sugar was recorded in England in 1069(sugar, 1). The subsequent centuries saw a major expansion of western European trade with the East, including the importation of sugar. At this time, it was regarded as a luxury.
In the 15th century AD, European sugar was refined in Venice, confirmation that even then when quantities were small, it was difficult to transport sugar as a food grade product. In the same century, Columbus sailed to the Americas, and it is recorded that in 1493 he took sugar cane plants to grow in the Caribbean. The climate there was so good for the growth of the cane that an industry was quickly established(sugar, 2).
---
Ingredients for Blonde Butter Syrup:
❑ 1/2 cup (1 stick) butter
❑ 1 cup sugar
❑ 1/2 cup evaporated milk
---
Instructions:
Melt butter in a small saucepan over the stovetop.
Place evaporated milk in a large microwaveable dish/glass measure cup. Microwave for 60 seconds or until boiling.
Add sugar to the evaporated milk immediately after removing from the microwave. (It will puff up when you first add the sugar to the milk, so that's why you want a big container to stir it in.)
Whisk sugar and milk for a minute until sugar is mostly dissolved. Add to melted butter on the stove and whisk continuously over medium-high heat. Continue whisking until the syrup boils and thickens up (happens when it reaches a boil.) Don't cook too long or it will caramelize the sugars and it won't be that blonde butter syrup you want.
*Refrigerate any leftovers up to 7-10 days. Reheat in the microwave 1 minute to melt any sugar crystals that may develope.
---
---
Servings: 4 French Toast
Total Time: 10 minutes (cook time: 5 min, prep time: 5 min)
---
To pair with the delicious syrup… why not make french toast?! My family usually makes pancakes instead of french toast but maybe i'll make them change there mind with this post 😉 Enjoy!
Cinnamons (Cinnamomum zeylanicum) botanical name derives from the Hebraic and Arabic term amomon, meaning fragrant spice plant(cinnamon, 1). Cinnamon was first discovered around 2800 B.C. in Ceylon. Ancient Egyptians used cinnamon in their embalming process. From their word for cannon, Italians called it canella, meaning "little tube," which aptly describes cinnamon sticks.
Cinnamon was actually used by Medieval Physicians. Medieval physicians used cinnamon in medicines to treat coughing, hoarseness, and sore throats. As a sign of remorse, Roman Emperor Nero ordered a year's supply of cinnamon be burnt after he murdered his wife (cinnamon, 2-3).
---
Ingredients for French Toast:
❑ 1 egg
❑ 1 teaspoon McCormick® All Natural Pure Vanilla Extract
❑ 1/2 teaspoon McCormick® Ground Cinnamon
❑ 1/4 cup milk
❑ 4 slices of any bread
---
Instructions:
To start making this easy French toast recipe you will need to beat an egg, vanilla and cinnamon in shallow dish. Then stir in the milk.
Dip bread in egg mixture, turning to coat both sides evenly.
Cook bread slices on lightly greased nonstick griddle or skillet on medium heat until browned on both sides. Serve with Easy Spiced Syrup (recipe follows), if desired. Voila, easy French toast.
Grab your french toast and plate, slice up your fruit (optional) and place on toast along with your delicious new blonde buttered syrup! And enjoy!
---
Happy Weekend.